Doug Haslam recently had a difficult experience at a bike store. They called at 5:50 after fixing his broken front derailleur and told him he could pick up his bike, but he had to be there by 6pm. He asked if they could stay 5 minutes late so he could get there. They said no.


He wasn't happy, won't go back, and shared that with this Twitter and Facebook followers.
Given that Doug has more than 17,000 followers on Twitter and nearly 1000 friends on Facebook, he's a guy with influence. Throw in the fact that he's riding in the Pan Mass Challenge, so spends a lot of time on his bike (and his followers know it) it gives his experience with a bike shop that much more credibility. Since Doug has major social media influence there must be a great social media lesson here.
The lesson for the bike shop? Mind your customer service.
That's not new. My great grandfather could have told you that from running his kosher butcher in Brooklyn. My other great grandparents could have told you the same thing from running their grocery store on Blue Hill Avenue in Roxbury.
The only real difference here is the easy with which Doug could express his displeasure and the number of people he could reach.
This got me thinking about marketing truisms and how social media hasn't really changed anything about marketing, just the tools.
Lesson: Know whether your goal is awareness or action
To take a line from Law and Order, marketing is broken into two separate yet equally important groups. Awareness, which drives customers, and action, which makes them buy something. (dom dom)
During a recent social media breakfast a quick back and forth erupted between the speakers and the audience about how to track ROI on a social media project, such as Twitter outreach. Many noted how Dell recently credited Twitter with driving $1 million in business over a year and a half. This brought up the question of how well Dell could actually track this kind of information.
At least one audience member noted that by providing codes and other such actionable Tweets, Dell could get a relatively accurate count.
That, replied Michael Troiano, was action as opposed to awareness.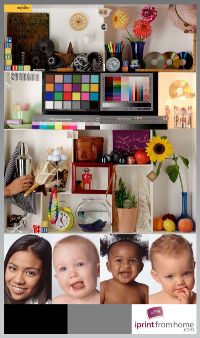 One of the joys of social media is that the broad reach isn't limited to large
companies like Dell, but also open to mom and pop operations. I recently got a free 20x30 metallic print from iPrintFromHome.com, just by responding to a Tweet for their "Tuesday Tweet" and entering a code.
"Wow," you say, "what a great use of Twitter!"
Well, yes, it is. This small family-run photo print shop reached a national audience of photo enthusiasts. And there are some great tool-based lessons here in terms of how they targeted key influencers and used them to increase their reach.

But it's also old-school marketing. They gave away a coupon for a service in order to get information about individuals (like me) with which to sell directly later.
Not so revolutionary as it is evolutionary.
Lesson: Direct marketing gets .5 percent to 2 percent conversion rates
In the old days of direct marketing you would target your market, design a piece of mail collateral then buy a targeted list. After paying for the mailing you'd assess your response and if you came through with 2 percent of your total mail number coming back, you considered it a success.
The same holds true today.
Recently I sat down with a VP of Marketing who conducted what he considered a very successful social media campaign. It utilized a customer who had a strong Twitter, MySpace and Facebook presence, galvanized that user's audience and drove paid users.
The conversion rate of traffic to paid users, he noted, was about 1 percent.
The main difference here is in the cost of driving that 1 percent. Instead of paying for a list and then paying printing and mailing costs, a company needs only to pay for the creative to get the project moving. Social media lets them build the list themselves while online distribution takes care of the rest.

Lesson: You can no longer make money from content.
The newsroom has never been a profit center, it has, in fact, always been a cost center. I spent many years working at TV and radio stations and I found that most general managers came out of the sales side of the house, not the news side.
The reason is simple: news is the loss leader.
This isn't a new phenomenon, but traces its roots back to Joseph Pulitzer. While Pulitzer sunk a lot of money into his news operation, and is remembered for his contribution to news, he was primarily a businessman. His newspapers didn't exist as public properties, they were businesses meant to make money.
Pulitzer (and his primary competitor Hearst) understood very well that if you lower the price of a newspaper to a penny, practically giving it away, and make it a desirable product by filling it with great stories, you could sell ads to the readers. News provided the channel to the people while the people attracted the businesses that would pay money to have access to the channel.
When the price of news production came down so did the exclusive control over that channel, so advertisers no longer needed newspapers (or any other big media) to reach their audience. In fact, a business like Craigslist, taking advantage of the lower cost structure, was in a great position to steal the classified advertising by simply creating a marketplace and growing it over time.
But news does, in fact, remain as a loss leader. Look at a company like Kaspersky Labs which operates Threatpost, a security blog that provides news about the IT security industry, employing many of the same journalists who used to write and edit industry trade publications like eWeek and Information Security Magazine.
Kaspersky doesn't make money on the news, but providing information does give them a channel that attracts the audience of security-focused IT workers into which they want to sell. It also provides them a level of credibility as well as influence.
The catch for Kaspersky (and for any company) is to properly manage that news channel and not turn it into a marketing channel. For now, they seem to be doing that pretty well.
To be sure, social media caused some fundamental changes in how people interact with information and each other. Individuals, for example, now have a much louder voice to express their gratitude and displeasure. Information production no longer resides in the hands of the few and now does belong to the masses.
However, for marketers some basics still apply. No matter how new the tools, the goals and the expertise necessary to drive customers remains the same.