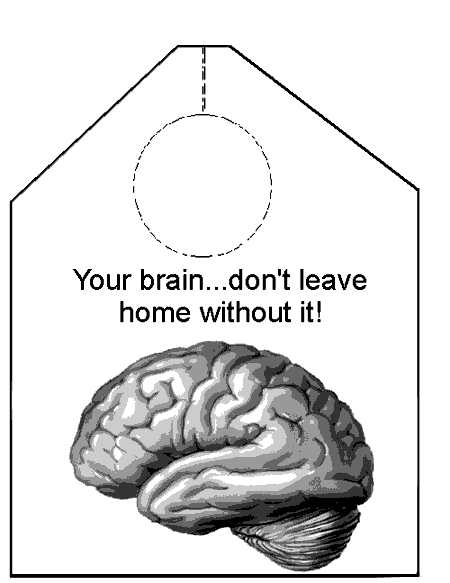 In high school I took an SAT review course with Princeton Review. The idea of the course was to teach you strategies for taking the test. Under their system, you didn't just know definitions of words and then pick the best answer, but you learned how to eliminate answers and, if necessary, make the best guess.

That said, the week before the test the teachers reminded us "Don't leave your brain at the door." That is, if you see something on the test that you know immediately, don't bother going through all the motions, just answer the question!

The same rules apply to social media. I'm watching with fascination as people become enamored with Twitter and look to the number of followers as a measure of influence.

Sure, it's great to have 500, 1000 or 20,000 followers, but does that translate into real influence today? I'm not so convinced. It may mean something down the road, but today it's just a number.

As the Web Ecology Project points out in its report on Twitter influence:

In general, the more followers a user possess, the more impact he appears to make in the Twitter environment, because he seems more popular (namely, that users follow him). This statement makes sense assuming that Twitter acts as a successful broadcast medium, where a user publishes a tweet and it is read by every follower. However, this view of Twitter as a broadcast medium ignores the potential for users to interact with the content on the platform.

The report takes some interesting approaches to influence, looking not just at numbers of followers and friends, but also in how information is used, retweeted or referenced by other members of Twitters.
Of course, the analysis is limited to Twitter and relative only there.
Rapleaf also
conducted an interesting study
and found that there's a growing popularity gap. Meaning, once you're popular on Twitter, you become popular for being popular. During the recent growth surge on Twitter, the more popular people saw their follower number surge at a rate much faster than people who were less popular.
Let's look at Newton, Mass. for a moment, if you were to look at the
TwitterGrader
"Twitter
Elite"
rankings for my hometown
, you'd see that
Sean Lindsay
(883 followers) is ranked 8th and Software Analyst
Judith Hurwitz
(2075 followers) comes in 10th.
Greg Reibman
(224 followers, pictured right) doesn't rank. Yet, he is the
publisher of the TAB Newspapers
and in this city that carries a lot of weight. People read it, both online and off, and talk about the articles all the time. Greg helps drive the local conversation. Though, that conversation doesn't always spill over onto Twitter, it happens on the phone, in front of schools, at bus stops and over breakfast.
Also not on the list is Mayoral Candidate
Setti Warren
(120 followers) who served in the Clinton administration and was Chief of Staff to John Kerry. Those are some good friends to have.
If you were to rely on Twitter and the online tools that measure influence, you wouldn't find these names.
If your corporate goal was to influence behavior in Newton you could use Twitter, but it would only accomplish part of your goal. Twitter is just a single data point in a much larger picture.
Part of this is Twitter's age, but part is that the tools to measure online influence don't extend to an offline environment. Influence, in large part, remains a one-to-one game, one played by shaking hands, looking into people's eyes and saying "hello." It's not about just adding followers to Twitter.
That said, Twitter offers a great use for helping viral campaigns, especially those online. It is a wonderful starting point and can provide some useful and immediate market intelligence. And of course, you need the followers to even start a campaign.
But don't leave your brain at the door.